European real estate shares headed for their biggest three-day advance since March, while oil climbed above $71 a barrel in New York as traders weighed supply cuts.
Global stock market trading was light on Tuesday, with US exchanges closed for the Independence Day holiday. Europe's Stoxx 600 edged higher on trading volume that was a quarter lower than the 30-day average. US futures were little changed.
Real estate was the best-performing sector in Europe as Swedish property manager Castellum AB jumped after analysts at DNB Bank ASA recommended buying the stock because of its attractive valuation. Belgium's Warehouses de Pauw CVA gained after boosting its earnings outlook.
Deal activity also sparked investor interest on Tuesday. Casino Guichard-Perrachon SA shares were suspended after surging 16%. The battle for control of the debt-laden French retailer is heating up after it received offers from Czech billionaire Daniel Kretinsky and a group led by telecom billionaire Xavier Neil.
After stocks rallied in the first half of the year, investors are worried that higher rates and a worsening economic backdrop will limit gains from here on. Friday's nonfarm payrolls report will be closely watched for clues on the trajectory of monetary policy, before focus turns to the earnings season next week.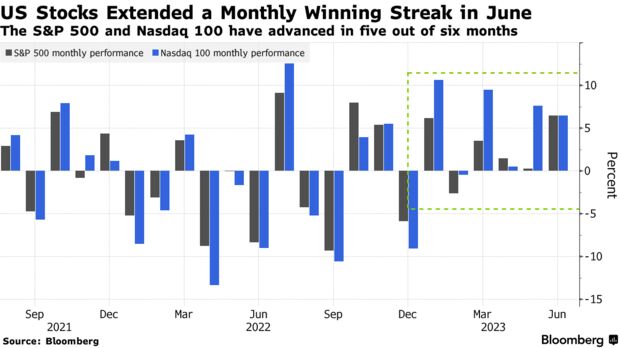 Meanwhile, strategists are increasingly warning about the risks to US stocks after a steep first-half rally. Citigroup Inc.'s Chris Montagu said positioning looks "very extended" and cited data showing that investors piled into bullish bets on US stock futures toward the end of June.
Among other notes of caution, Goldman Sachs Group Inc. strategists wrote that it's too early to dismiss the risk of higher interest rates weighing on stocks. On Monday, a key segment of the Treasury yield curve approached its most inverted level in decades, with the two-year note yield exceeding the 10-year rate by as much as 110.8 basis points.
"We remain cautious on equities amid a broadly muted economic backdrop," said Luca Paolini, chief strategist at Pictet Asset Management. "A gap has opened up between earnings expectations and leading economic indicators. At some point, the gap will have to close. Either the economy will rebound — which we think unlikely — or equities will reprice."
In Asia, Sri Lankan stocks jumped the most in more than a year as a plan to revamp domestic debt eased concern over financial sector stability. Japan's Nikkei 225 fell from its highest level since 1990.
Pakistan's rupee rallied against the dollar on optimism the International Monetary Fund's bailout will boost demand for the nation's assets.
Elsewhere, oil traders considered the effects of output cuts. On Monday, Saudi Arabia said that it will prolong a unilateral 1 million barrel-a-day supply reduction into August, a move traders had widely expected. Russia announced a reduction in exports, while Algeria planned to make more modest curbs.
Shares of Chinese non-ferrous metals firms climbed after the government imposed restrictions on exports of gallium and germanium in an escalation of the trade war on tech with the US and Europe. The metals are crucial for the semiconductor, telecommunications and electric-vehicles sectors.
Source: Bloomberg