European stock futures dropped after polls showed French President Emmanuel Macron in a tight race with his nationalist rival Marine Le Pen in the final round of the French election.
Contracts on the Euro Stoxx 50 fell 0.9% Monday while the euro pared gains as financial assets were under pressure amid a rise in Treasury yields. Macron and Le Pen were the top two vote-getters in Sunday's first round, with 27% and 24%, respectively. While that is good news for some investors who had feared a closer contest and a support surge for Macron's rival, markets may be on edge for the next two weeks as the candidates seek to build a broader coalition of voters in the one-on-one contest.
"This is much closer than what the market was thinking on Friday and it means that in two weeks' time the battle would be very close and uncertain," said Alberto Tocchio, a portfolio manager at Kairos Partners. It is "still too early to properly judge the situation, but it is clear to me that a Le Pen win could feed a pan-Euro area fragmentation risk and the market would now need to price this risk as above zero."
Some traders worry that votes from trailing candidates such as Jean-Luc Melenchon on the far left and Eric Zemmour on the far right may go to Le Pen.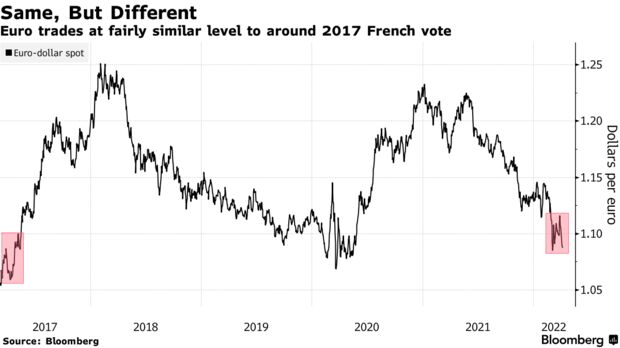 The euro was 0.05% higher at $1.09 after rising as much as 0.7% at the start of Monday's trade. For the currency to make further gains, investors may have to be convinced that the 44-year-old Macron can consolidate his advantage and ward off the threat of a Le Pen victory. The yield on France's 10-year bonds climbed to a seven-year high last week on concern Le Pen, with longstanding sympathies for Russia, may take power in the middle of the Ukraine war.
"Macron has a comfortable lead and this is reassuring," said Alexandre Baradez, chief market analyst at IG France. "He hasn't won yet and the campaign will be tough in the coming two weeks. But I expect this result, if confirmed, to be slightly positive for the CAC 40 Index."
Risk Remains
Investors and strategists remained split over what Sunday's results really meant. While some took comfort from Macron's lead, others pointed out to the possibility that Le Pen may consolidate anti-Macron votes before the April 24 final round. Three surveys showed Macron leading by at least 54% to 46% while others showed a narrower advantage.
The combined vote shares of Melenchon, Zemmour and Le Pen showed this was a "a vote of anger"' targeting the current government, said John Plassard, a director at Mirabaud & Cie.
"The left and the right are gone," he said. "Now it's a choice between continuity, with Macron, and the extremes. It's a shock for French politics. I do expect a bit of pressure on equities and on bonds too because of this."
Melenchon himself advised his supporters not to vote for Le Pen, while Zemmour told his to back her.
French equities, including banks BNP Paribas SA and Societe Generale SA, were hurt last week as polls showed Macron's lead narrowing. Stocks have outperformed other European markets over the course of Macron's presidency.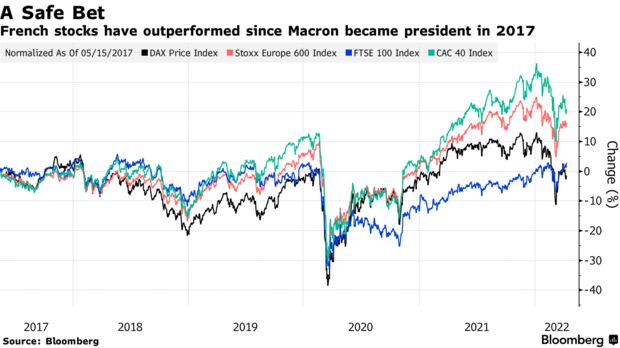 The euro slid 1.5% last week against the dollar to its lowest since the early stages of Russia's invasion of Ukraine. Negative sentiment in the options market was close to levels seen before the 2017 French election, though that also reflects hedging over the war in Ukraine, inflation and monetary policy.
The close contest has also been driving measures of risk in the bond market. The difference in benchmark French and German yields has risen to the most since March 2020. The equivalent between Italian and German debt, a gauge of euro-area wide sentiment, is up almost 20 basis points this month to around 170 basis points.
Even if Le Pen were to win the presidency, legislative elections in June will determine how much of her agenda she can get through. A strong showing in both of these could see the euro slide below parity against the dollar for the first time in two decades, according to Nomura Holdings Inc. strategists, though that remains an extreme scenario.
Source: Bloomberg