Germany's economy shrank 0.2% at the end of last year — a worse outcome than previously flagged and one that makes a recession on the back of rising energy bills more likely after all.
The figures Monday from the statistics office contrast with an estimate this month for output to have stagnated in the fourth quarter. They also mean a contraction in the period through March would still produce a recession in the euro area's largest economy.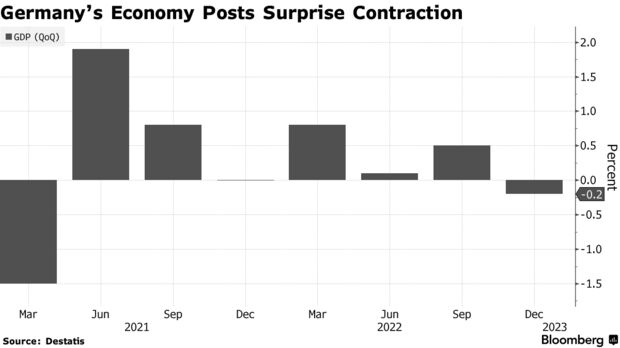 Several indicators in recent weeks have pointed to growing confidence in Germany after a mild winter and well-filled natural gas storages all but eliminated the risk of shortages during the heating period. Wholesale prices for the commodity have fallen from record highs, nurturing hopes that inflation will cool sooner than previously thought.
Demand is weighed down as surging prices continue to filter through to consumers. That trend was also visible in Sweden, whose economy unexpectedly contracted in the fourth quarter, separate data earlier Monday showed.
Manufacturers, which play an outsized role for Germany, are seeing orders fall, though production is supported by a large backlog and an easing of supply bottlenecks.
The government in Berlin last week forecast growth of 0.2% for 2023, compared with an earlier prediction for a 0.4% contraction. Economy minister Robert Habeck still warned of a possible recession, and that the crisis Russia sparked with its invasion of Ukraine isn't over.