European stocks and US equity futures slumped as an unexpectedly strong US jobs report raised the prospect of more rate hikes from the Federal Reserve. Concern over US-China geopolitical tensions also weighed on sentiment.
The Stoxx Europe 600 index dropped more than 1% after closing Friday in a bull market, with the technology and real estate sectors leading the retreat. On Wall Street, contracts on the S&P 500 and the Nasdaq 100 fell by more than 0.8%.
The dollar climbed for a third day after a gauge of its strength rose more than 1% Friday, when figures showed a surge in payrolls and unemployment at a 53-year low. This points to persistent US inflation and bolsters the case for more rate increases.
"The state of the employment sector is a significant factor in the Federal Reserve's decision-making process, and thus the number has certainly provided investors with another factor to consider when predicting the course of the Fed's movements over the next couple of months," economists at Rand Merchant Bank in Johannesburg said in a note.
US-listed Chinese stocks were on track to fall for a third session, after Washington's move to shoot down an alleged surveillance balloon from China spurred new tensions between the two countries. The US sent divers to salvage what they believe is spy equipment from the Chinese balloon off the coast of South Carolina, with pressure mounting on President Joe to hit back at Beijing with new export control measures.
In Japan, stocks climbed and the yen weakened after the Nikkei reported that the government had approached Bank of Japan Deputy Governor Masayoshi Amamiya about succeeding Haruhiko Kuroda as head of the central bank. While the Japanese government refuted the report, investors assume a greater likelihood of the current ultra-easy monetary policy enduring if one of its architects succeeds Kuroda.
Meanwhile, the robust US labor data on Friday "had serious implications for Fed policy — simply put, it confirms our long-standing belief that the Fed will have to go higher for longer than what optimistic market scenarios had priced in," Win Thin, global head of currency strategy at Brown Brothers Harriman, wrote in a note. "We still have a ways to go to get to peak Fed Funds rate, and yet folks are still looking for second-half rate cuts in what would be an extremely quick turnaround."
The employment numbers spurred yields on Treasuries to extend climbs for a second day. Traders will monitor this week's $96 billion of Treasury note and bond auctions, which will be a test for the market, according to Daniel Mulholland, head of rates at Crews & Associates.
On the outlook for US stocks, Goldman Sachs Group Inc. strategists said the rally over the past month may be as good as it gets this year. The S&P 500 now accurately reflects signs of better-than-expected economic growth and a drop in bond yields, strategists led by David J. Kostin wrote in a note. Morgan Stanley's Michael Wilson broadly shares that view, while JPMorgan Chase & Co. strategists said international markets continue to screen as "much more interesting" than the US.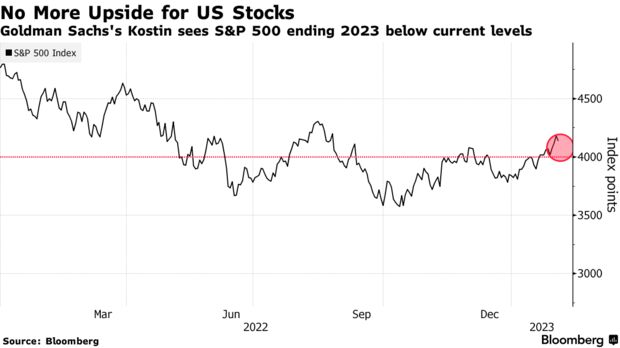 In other New York premarket trading moves, Newmont Corp. fell after it offered to buy Australia's Newcrest Mining Ltd. in a $17 billion deal that would strengthen the US comany's position in copper and gold.
Elsewhere, oil edged higher as traders took stock of the outlook for demand in China and the latest sanctions on Russian energy flows came into effect. Gold rose. The Swedish krona fell to its lowest level against the euro since 2009, as concerns abound over the state of the nation's economy.
The Turkish lira was steady against the dollar after Turkey and neighboring Syria were hit by a powerful earthquake before dawn on Monday, killing hundreds of people. The country's benchmark stock index dropped as much as 4.6% and the Istanbul exchange suspended short selling as part of measures to limit wider market fallout. Turkey stopped oil flows to Ceyhan export terminal on the Mediterranean coast as a precaution.
Adani Group assets are facing continued volatility. Billionaire Gautam Adani and his family have prepaid $1.11 billion worth of borrowings backed by shares as the conglomerate seeks to allay investor fears and stem a stock rout that's in its third week.
Source: Bloomberg